Compiling a digital menagerie on Holland America cruise

By Donald H. Harrison
ABOARD MS ROTTERDAM – Not really conscious that I was doing so, I turned this Holland America  cruise ship into a digital Noah's Ark while voyaging from Lima, Peru, to San Diego, USA.
In port after port, I photographed whatever seemed interesting that crossed in front of my lens.  This included shops, architecture, signs, people in national costume, flags—the usual eye-appealing parade of color that catches the eyes of tourists. To my surprise,  it turned out that in every port—even in one at which I was feeling too ill to get off the ship—I photographed animals. 
Some of the animals were alive, some were representations in art, but  the growing unplanned collection seemed a testament to the fact that no matter where in the world where we go, humans find animals irresistible to watch and to admire.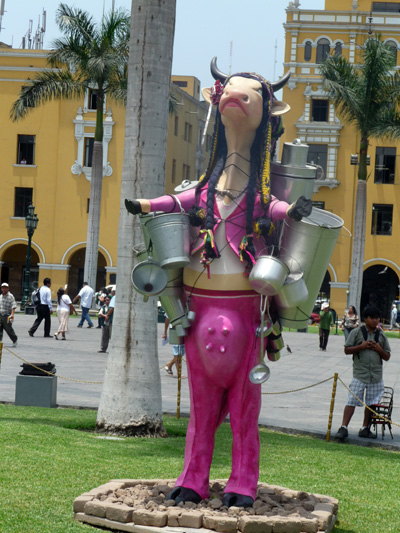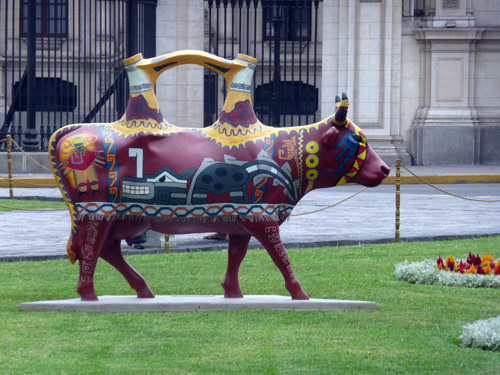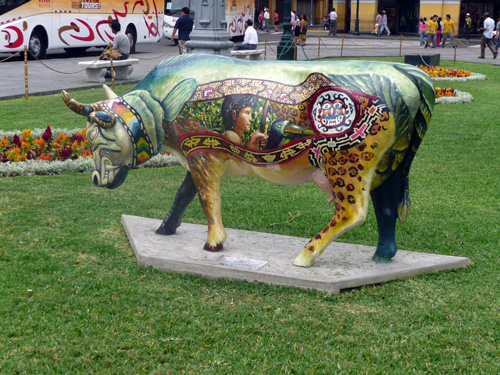 Our cruise started in Callao, which is the port for Lima, Peru.  In the Plaza des Armas, near the presidential palace, various artists had decorated life-sized sculptures of cows.  I was told that this was  a public art project that eventually through auction will raise money for charitable causes.
The next stop was Guayaquil, Ecuador, and from the pier, courtesy shuttle buses took us to a park in the center of town famous for the iguanas that roam there along with the pigeons.   Admired, photographed, oohed and ahhed over, the iguanas are quite used to the Ecuadorians and tourists who come to see them on a regular basis.   They even seem to tolerate the pigeons, which like to share in the iguanas' bounty.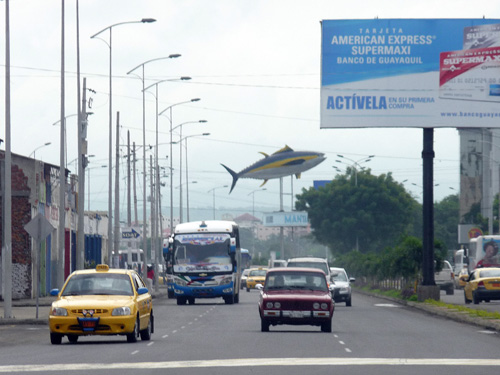 Manta, Ecuador, is home to tuna canneries –and tuna are celebrated with public art showing them jumping out of a fountain and flying across a main street.
In Puerta Caldera, Costa Rica, I felt too ill to get off the ship—a short bout with  a  gastro-intestinal malady had done me in – but a black bird of a species I couldn't identify apparently took pity on me, flying right to the Promenade Deck outside the sliding door of my cabin.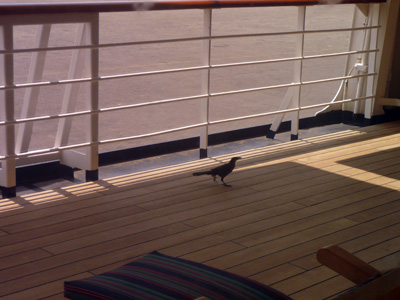 It was if the bird knew, even before I did, that I had this  animal photo streak going, and didn't want a little thing like a stomach upset to spoil it.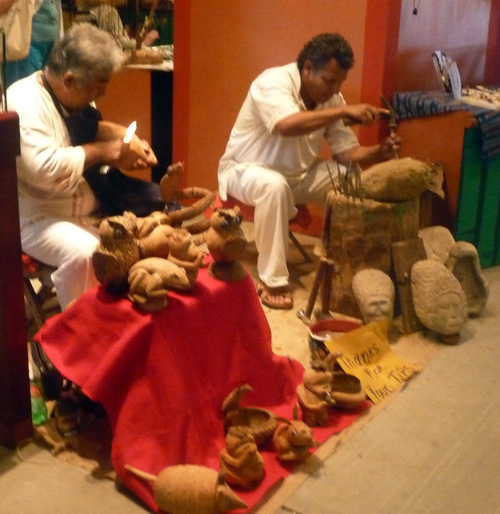 Next it was to Puerto Chiapas, Mexico, where woodcarvers at work inside a giant tourist pyramid made various animals before our eyes, including a frog.
In Huatulco, the Gabriel the Owl store invited tourists to buy gold at 40 percent off with the promise on an outdoor sign that "we won't cheat you too bad."  How reassuring!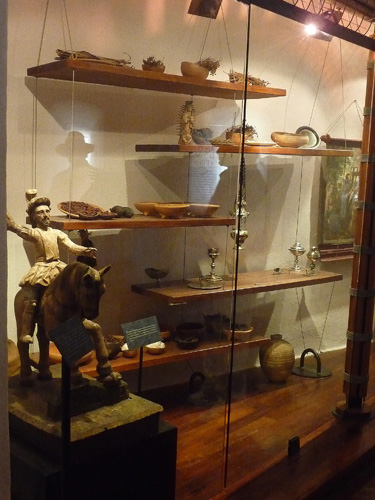 In Acapulco, at Fort San Diego, exhibits showing trade goods carried in the times of the Manila galleons included a sculpture of a horse carrying a Spanish soldier.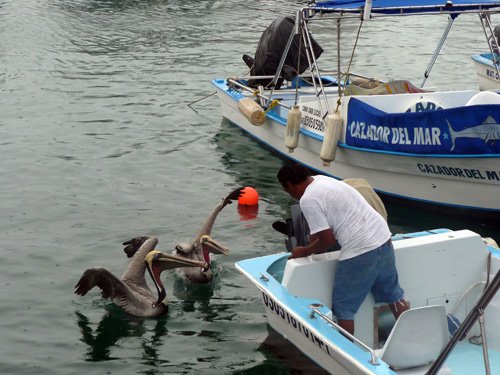 In Cabo San Lucas, our last port before San Diego, we were fascinated by the large, friendly pelicans that loafed along the waterfront.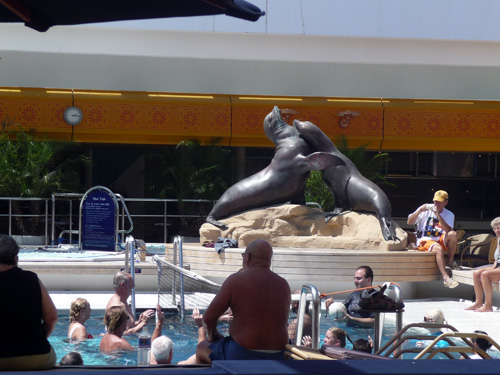 The ship also contributed to my photographic zoo.  Two large sea lions dominated the swimming pool on the Lido Deck, carved watermelons in the buffet line looked  like seahorses, and on many nights in our cabins, towel animals created by our stewards tickled our whimsy.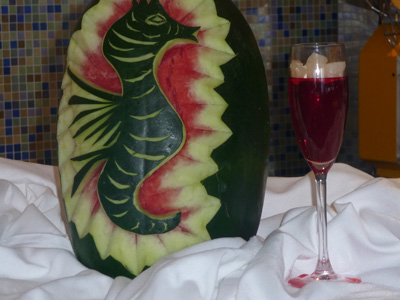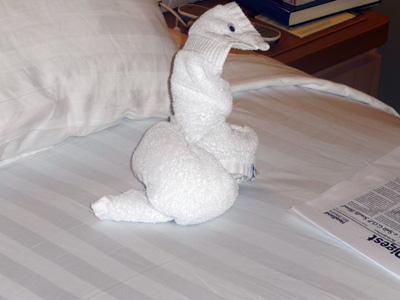 *
Next: Boom times in Manta, Ecuador
*
Harrison is editor of San Diego Jewish World
Short URL: http://www.sdjewishworld.com/?p=3907
Posted by
dhharrison
on Mar 15 2010. Filed under
Harrison_Donald_H
,
San Diego Calendar
. You can follow any responses to this entry through the
RSS 2.0
. You can leave a response or trackback to this entry