Adventures in San Diego Jewish History, June 24, 1955, Part 2

Compiled by San Diego Jewish World staff

In The Good Old Summertime
Southwestern Jewish Press, June 24, 1955, Page 3
By Julia Kaufman
Starlight Opera Company– To paraphrase the words of the immortal Gilbert and Sullivan: "I've Got It On My List," and I hope you have too.  Naturally, I'm referring to the "Mikado" which opened last night at the Balboa Park Bowl. The "Mikado" is family fare, chockfull of comedy and light music … the kids will love it. There will be seven performances through Saturday this week, and Wednesday through Sunday the following week.
*
Raincoats and boots will be the fashion at La Jolla Playhouse for those attending the performance of "The Rainmaker," opening Tuesday, June 28th.  James Whitmore, Hollywood star, in the role of "Bill Starbuck" will co-star with Teresa Wright and Lee Marvin in Richard Nash's romantic comedy.  Inspired by San Diego County's legendary Hatfield, the rainmaker, the comedy was one of Broadway's successful plays.
"The Rainmaker" is scheduled to run through Sunday night, July 10.  Tickets are now on sale at the box office in La Jolla and San Deigo, at the U.S. Grant Hotel, Rm. 241.
*
"We like this guy Marty," Martin and Lewis.  "Marty" is the man with the most!" Danny Kaye.  "Listen to your uncle Miltie and don't miss seeing Marty," Milton Berle.  "Marty is the kind of picture you can't hardly get no more," George Gobel.  In case you don't know it, his name is "Marty" and he will spend four weeks at the Capri Theatre, University and Park, beginning July 1st.  Premiere showing—Monday, June 27, 1 p.m. – proceeds to Birdie Stodel Chapter of B'nai B'rith.)
For opera lovers and those who would like to love opera, Verdi's "Aida" in color, with spectadcular sets and costuming, can be seen all next week at the Capri.  The role of "Aida" is sung by the world-famous soprano Renata Tebaldi.
*
The San Diego Symphony Orchestra is all set for the first concert of the Summer which will take place on Tuesday, July 12th.  On the program will be Beethoven's "Overture to Egmont," Vivaldi's "The Seasons," and an original composition, "The Epilogue of Julius Caesar," by Robert Kurka.  Soloist ill be violinist Robert Gerle. 
Tickets can be obtained at the Palmer Box Office, phone BE 9-4700.
*
Arent; you lucky to live in a tourist town?  Someday, we may even have a beautiful auditorium, an opera house and an intimate theatre.  You dreamer, you!
*
Notice
Southwestern Jewish Press, June 24, 1955, Page 3
If you do not receive your paper on time please telephone our office immediately…. BE 3-8393.
*

Now Hear This
Southwestern Jewish Press, June 24, 1955, Page 3
By Joyce Addleson
All you Jr. Hostesses who missed the Luncheon Saturday, June 18, really missed the time of your lives.  After a wonderful lunch at the Officers Club at the Marine Corps Recruit Depot, all the Sr. and Jr. Hostesses piled into cars and went to the Fleet Landing where we rode the Nickel Snatcher (that may soon become a dime snatcher) over to North Island where a bus and Chief Russell were waiting for us.  We then proceeded to tour the carrier Shangri-La, one of the most modern carriers in our Navy today. Even the escalators aboard were a surprise to most of us! It was a most successful tour.
At the luncheon, the Jr. Hostess of the year was Miss Maxine Gerson, who has given unselfishly of her time and energy to attend the dances on both Sunday nights and Wednesday.  Congratulations to Maxine who also received a beautiful gift.
The founder of the U.S.O. sr. Sponsors, Julie Abraham, was also presented with a lovely gift and Claire Kaplan who made the luncheon possible was presented with a beautiful orchid.  Thanks to all again for the wonderful day.
Congratulations to Bob Plesser and Bobbie Glickman, who have announced their engagement.  The wedding should fall sometime next June. Good luck, kids.
Note: Now that summer is officially here let's see all you Jr. Hostesses with your tans at the dances on Wednesday nghts at Temple Center and on Sunday nights at the Tifereth Israel Center.
*
B.B. Co-Ord. Council Elects New Officers
Southwestern Jewish Press, June 24, 1955, Page 3
The San Diego B'nai B'rith Coordinating Council, which comprises the four B'nai B'rith units in San Diego, has just elected new officers for the coming term. Chairman, Mrs. Harold Garvin; Vice-Chairman, Irving Small; Treasurer, Dr. Milton Millman; Secretaries, Mrs. David Schloss and Mrs. George Starr.
The next meeting of the Council, which is a most important one, will be held at the home of Mrs. George Starr, 2811 Juniper. This will be the last meeting prior to the District Convention in Spokane, Washington, on July 23-July 27, and many vital factors will be discussed.
One of the objectives of the Council is to unify the activities and efforts of B'nai B'rith in San Diego and with Eddie Breitbard being a candidate for the office of third vice president of the Men's District Grand Lodge, the Council is making a concerted effort towards his election.
*
(Army exhibit)
Southwestern Jewish Press, June 24, 1955, Page 3
The Army will exhibit two Niks—directed missiles, complete with launching platform – at the Armed Services display at the 16th annual Southern California Exposition and county Fair at Del Mar, June 24-July 4.
*
With The Guardians
Southwestern Jewish Press, June 24, 1955, Page 4
By Morrie Pomeranz
We continue the second and final installment of the Goodrich story.  The purchasers attorney demanded a cancellation of the contract and immediate return of the $3,000 check since the man was mentally disqualified to be a party to any binding obligation.  Murray negative the attorney's demands by contending that the entire transaction was predicated on good faith.  Next scene—local court room. The purchaser, still wearing his pajama tops, striped bathing trunks and paratrooper boots stood alongside Goodrich preparatory to presenting his version: he continued rolling the two steel balls in his left hand.  The judge studying both litigants, judicially inquired: "Which of you is Murray Goodrich?"
*
Neatest card trick of the year.  For two consecutive poker games, one of the players suggested "cutting the pot" ( a specific amount was predetermined) for a designated worthy cause.  There was whole-hearted approval by the others and during the evening the sum was readily attained.  The trick?  The amount collected was exactly the amount needed by one of the player's wives to make up her "donor quota" for a recent dinner dance.
*
Guardian Its Penter, traveling to Europe, memos of an incident which took place last week in Italy.  He and Betty were shopping for a Milano straw handbag in a small Provinzia near Palermo; the variety store was run by the Signor and his little Signora. Considering the initial asking price out of range, Its looked up several key words in his pocket dictionary and made a counter-offer.  Nothing significant followed except the wife's whispered suggestion to her Italian shopkeeper-husband: "Nem de Gelt."
*
A big turnout is anticipated for the meeting of July 7th.  Mayor-elect Dail will be guest speaker; Al De Sure will chair the program for the evening. Members are urged to attend and bring along a guest—preferably someone who has never attended a Guardian meeting.  Remember—Mayor Dail—July 7th—Manor Hotel at 6:30 p.m.
*
Guardian Bunny Jacobs brought along his newly-acquired Geiger counter to demonstrate the electronic wizard to his sister Lillian—before leaving for the wilds of Jacumba.  The two roamed the hillside yard with Bunny adequately explaining the intricacies –"average count" –"cosmic fall-out"—"inter-planetary radiation" etc.  Lillian was properly impressed with her older brother's scientific knowledge. Suddenly the needle of the Geiger counter swept crazily to the right – there was definite radioactive rock—the rock was readily located—neighbors on both sides stared intently as Bunny stammered about his remarkable discovery on 58th street.  All went well until someone suggested that Bunny remove his wrist watch with the radium dial!
*
Any Thursday night finds a good representation of Guardians at the Julie Penn-Mort Thaler driving range on El Cajon Blvd. The professional instruction(free) at 8 p.m. has stimulated considerable interest. Our only protest? – we hate to see Jennie and Gert chasing those golf balls while Julie and Mort sit in the office.
*

All Faith Chapel Dedicated At Solar Aircraft
Southwestern Jewish Press, June 24, 1955, Page 4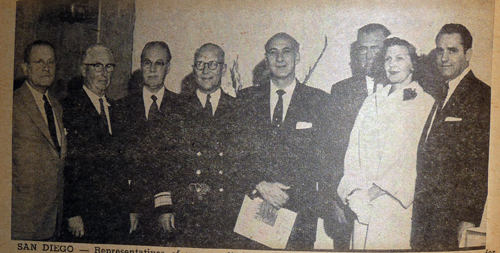 SAN DIEGO-Representatives of many religious faiths participated in dedication ceremonies for Solar Aircraft Company's All Faith Chapel. (L. to R.) Edmund T. Price, Solar president and general manager; Tipton L. Wood, Solar chaplain; Wayne A. Neal, executive secretary, San Diego Council of Churches; Thornton C. Miller, RADM, Chaplain Corps, USN, representing Armed Services; Rabbi Morton J. Cohn, Congregation Beth Israel; Vice Admiral Wilder D. Baker, USN (Ret), chairman Chaplain Council; Mrs. Parker W. Meade, secretary, San Diego Baha'i Assembly; Barry P. Knudson, San Diego Stake president, The Church of Jesus Christ of Latter Day Saints.
The spiritual project unique in American industry began 2 ½ years ago. It followed an offer by Price for the company to supply site and materials if as many as 50 employees indicated their desire to have the chapel and their willingness to build it themselves on their own time.  Hundreds of Solar men and women worked on the All Faith Chapel, dedicated May 28.
*
(Miss Universe)
Southwestern Jewish Press, June 24, 1955, Page 4
The California finals of the Miss Universe Pageant will be held June 29 at the Southern California Exposition and County Fair in Del Mar.
*
Adventures in San Diego Jewish History" is sponsored by Inland Industries Group LP in memory of long-time San Diego Jewish community leader Marie (Mrs. Gabriel) Berg. Our "Adventures in San Diego Jewish History" series will be a regular feature until we run out of history.  To find stories on specific individuals or organizations, type their names in our search box.
Short URL: http://www.sdjewishworld.com/?p=12196
Posted by
admin
on Dec 17 2010. Filed under
Adventures in SD History
,
San Diego News
,
Thaler_Gert
. You can follow any responses to this entry through the
RSS 2.0
. You can leave a response or trackback to this entry