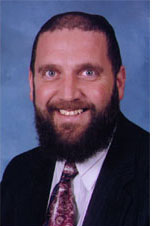 By Rabbi Baruch Lederman
SAN DIEGO –A woman answered the front door to find a workman standing on the porch and carrying a box of tools. "I'm the piano tuner ma'am" he announced. "But I didn't send for a piano tuner."
"I know, but the neighbors did!"
Some people know the Torah. Some people know the world. Some people know science. Some people know people. The hardest thing to know; is to know yourself. The Kohain Gadol was pure on the outside and pure on the inside. Our insides affect our outsides in ways we are not always aware of. Often our inner turmoil sends out signals that we are unaware of. A stranger can often see more about us in seconds than we can see about ourselves in a lifetime.
How many times has it happened that someone was depressed, and unknowingly sent out negative signals. Others then interpreted those nuances as unfriendliness or even animosity even though the person is not unfriendly or hateful – just depressed. Self- awareness is the most difficult challenge and also the most rewarding. We should always try to see things from other peoples perspective; albeit, that is easier said than done. If we purify ourselves internally we will send out the most beautiful vibrations and stimulate happiness in those around us – automatically.
Dedicated by Herb & Bette Shatoff in memory of their parents.
*
Rabbi Lederman is spiritual leader of Congregation Kehillas Torah.  He may be contacted at [email protected]
Click here for reuse options!


Copyright 2012 San Diego Jewish World