Charity Navigator, Meeting Mitt and Balloon Nachas

By Donald H. Harrison
SAN DIEGO— Recently Jewish Family Service of San Diego County issued a press release announcing that for the fifth year in a row, it has received a four-star rating from the Charity Navigator organization, which is based in Glen Rock, New Jersey.
So what does that mean, exactly?
Sandra Miniutti, vice president of the rating organization, said in an interview that its staff evaluates 5,500 of the nation's largest charities, utilizing the Form 990s that charities are required to file each year with the Internal Revenue Service.  "We get those documents directly from the IRS… and because we work in that manner charities don't have the opportunity to opt out of being rated if they suspect they might get a bad rating," Miniutti said.
The forms can be quite lengthy–"sometimes the size of a phone book"–and Charity Navigator examines "such things as how much does the charity spend on its programs versus how much is spent on its administrative and fundraising costs," Miniutti said.
She said a good ratio is 75 percent for programming to 25 percent for overhead, but noted that JFS does much better than that. Of  $15 million in expenditures last year, 88 percent went for programming, and 12 percent for overhead.  In the overhead column were  $1.13 million for administrative costs and $650,000 for fundraising.
Particularly impressive was JFS's low fundraising costs, Miniutti said.  For every dollar raised, JFS spent 4 cents for fundraising, compared to most charities that spend 13 cents, she added.
JFS also scored high with Charity Navigator because its revenue keeps increasing from year to year, and it  keeps a reserve of 1 1/2 times its annual operating costs.  As a general rule, such a reserve is recommended because charities "need a little bit of padding to get through the tough times so they don't have to scramble to make payroll and they can be more thoughtful about their programmatic endeavors," Miniutti explained.
She added that JFS revenues in 2011 were $16,074,661, allowing it to continue to put aside money for a rainy-day fund.  JFS's  net assets were $24.7 million.
Minuitti said that JFS received a perfect score in the categories of accountability and transparency.  "We look at such things as does the charity have at least five independent voting board members, so there is good oversight; are they doing an annual audit; and have they posted the audit and the Form 990 on their website?"   She added that Charity Navigator also believes that charities should have formal policies to protect employees who might become "whistle blowers."  JFS does.
In its fifth year with a four-star rating, JFS is in the top five percent of the nation's major charities, Minuitti said. She added that on a point system it has the highest rating of any charity in San Diego County, including such local four-star winners as United for Reading, Plant with Purpose, YMCA of San Diego County, Operation Homefront, San Diego Symphony , and the Jewish Community Foundation of San Diego.
In the JFS press release, the organization's CEO, Michael Hopkins, commented that the rating "is a testament to our Board of Directors and staff who take great pride in fulfilling our mission and managing our resources so we can help as many clients as possible in our programs. It addresses perhaps the greatest donor concern—that your money is stewarded wisely and put to good use. As Charity Navigator puts it, 'this exceptional designation differentiates Jewish Family Service of San Diego from its peers and demonstrates to the public it is worthy of their trust.'"
*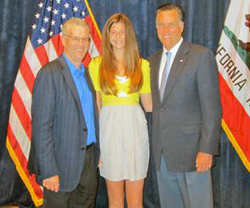 MEETING MITT – Charles Wax, the head of Waxie Sanitary Supply, is a financial contributor to Mitt Romney's campaign for President, and has had more than one occasion to meet with him here in San Diego where the soon-to-be-official Republican nominee maintains a residence.   But no meeting with Romney has been more fun for Wax than a recent one at which he got to introduce his granddaughter, Julia Vanderwiel,  to politics.
After taking her to Balboa Park during Memorial Day weekend to hear Romney and U.S. Sen. John McCain (R-Ariz) deliver non-partisan speeches in honor of America's Servicemen and Servicewomen, Wax took Julia, 14, to a fundraiser where they were able to pose for a photo with Romney.
An actress who appeared as the character Laura Morton in a recent Old Globe production of Neil Simon's Brighton Beach Memoirs, Julia has been exposed to celebrities before. However,  meeting a presidential contender was a special treat which she rated higher than having a chance to mingle with, say, actress Katy Perry.
Although their encounter was brief, Julia said she was impressed that Romney is a "kind man," and commented that he had a firm handshake.  She said they chatted about the fact that a friend of hers live a few houses away from one of Romney's sons.  Julia is graduating from La Jolla County Day's middle school and will be  an entering freshman at the Canyon Crest Academy.  She says she's interested in someday being a lawyer.
*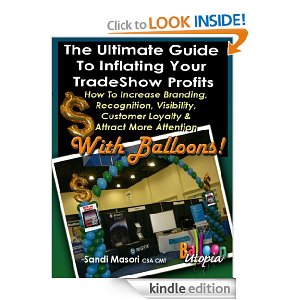 SCHEPPING NACHAS – My daughter, the published author, has her first Kindle book on sale on Amazon.  It has the breath-consuming title (if you try to read it aloud) of The Ultimate Guide To Inflating Your TradeShow Profits: How To Increase Branding, Recognition, Visibility, Customer Loyalty & Attract More Attention With Balloons.  
"Nu?"  I asked daughter Sandi Masori, "Why such a long title?  Why not simply Ballooning Your Profits or something similarly catchy?"
Her answer made me realize how much the Internet is changing the publishing world.  She explained that short, catchy titles are perfect for people who are browsing the shelves of a book store.  On the other hand, people who are looking on line for books are guided to their choices by search engines, which utilize key words in the title to determine what book to put up on the computer screen.  So the wordier the title is, the more key words there are for the search engine, and therefore the higher the potential sales.
Egads!  Under this system, would Margaret Mitchell's Gone With The Wind have been called Love and Battles During the United States Civil War and the End of the Southern Way of Life?  Would Hans Christian Anderson's Little Mermaid been called Half-Fish, Half-Woman In Search of Love in Denmark? Would Leon Uris's Exodus been titled Sabras, Holocaust Survivors and a beautiful Danish girl establish a new State of Israel and battle Arabs for the Right to Do So?
Long title or not, I am schepping lots of nachas and learning quite a bit from Sandi's book, which not only discusses techniques for using balloon art to enhance exhibitors' sales at trade shows, but also discusses some of the more weighty–or perhaps in this case, weightless–issues in the field of balloon decorations.
She points out in her book that those tin foil-like, mylar balloons conduct electricity and therefore are considered potential hazards to power lines.  Recognizing this, California has enacted a law which Sandi urges everyone in the balloon industry to follow, whether they live in California or elsewhere.  Essentially, the laws require the mylar balloons to have anchors so they cannot float up to a high tension line somewhere and short it out, causing a power outage.
Anchors "can be a fishing weight, a washer, a cute little plastic weight, etcetera, just so long as it's heavy enough to hold it down," she writes.
Concerning the issue of whether balloons are "green," that is environmentally friendly, I was interested to learn that latex balloons are made from the sap of the rubber tree, hevea brasiliensis, and that "they are biodegradable; they decompose at the rate of an oak leaf."
*
Harrison is editor of San Diego Jewish World.  He may be contacted at donald.harrison@sdjewishworld.com
Short URL: http://www.sdjewishworld.com/?p=28711
Posted by
admin
on Jun 7 2012. Filed under
Harrison_Donald_H
,
Publisher's Corner
. You can follow any responses to this entry through the
RSS 2.0
. You can leave a response or trackback to this entry