An alliance in love for Israel

By Audrey Jacobs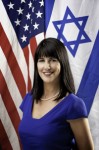 SAN DIEGO — This week I witnessed a miracle.  I stood together with more than 400 Christians and Jews of all ages holding hands in prayer for Israel in downtown La Jolla.   This was at the "Israel Miracle: How a Small Nation has Changed the World" event created in just six days to galvanize Christian support for Israel.   Surprisingly about 15 percent of the crowd was Jewish.  That night we heard a heartfelt plea by Christian leaders to the Jewish community to embrace their friendship and devoted support of Israel.
The evening was organized by Brett "Bird" Matson, a Christian leader of Israel 101 Events, and co-sponsored by StandWithUs San Diego, a global non-profit that empowers individuals to stand with Israel. The event featured a screening of the documentary "Israel Inside" followed by a panel discussion featuring Col. Raanan Gissin PhD, former advisor to Prime Minister Ariel Sharon, Pastor Ray Bentley, author and leader of mega-church Maranatha Chapel, Todd Morehead, director of the film Promised Land about his expedition to refurbish bomb shelters in Israel and Brian Kelly, a Christian missionary who had just returned from Israel helping Jewish Ethiopians immigrants settle into the promised land.
From the moment I began as director of StandWithUs, I felt it was important to partner with Christians to empower the broad community to stand with Israel.  At our StandWithUs San Diego kick-off event 11 months ago at the same venue, the Museum of Contemporary Art La Jolla, I had the honor of meeting "Bird" in a miraculous way.
Our event had sold out and security wouldn't allow anyone else in.  Five minutes before we started, security brought two important people backstage: my husband and Bird, whom I had never met.  Since then, Bird and his beautiful family have become good friends and loyal supporters of StandWithUs.
For months we had been looking for an opportunity to screen for the Christian community the film Israel Inside: How a Small Nation Makes a Big Difference. The film is a new documentary that tells Israel's story beyond the conflict through its people and the characteristics that drive them to creatively make the world a better place.  When I learned StandWithUs would be hosting Israeli spokesman Col. Raanan Gissin PhD., I called Bird and he agreed to organize an event to show the film and have Dr. Gissin speak along with Christian leaders.
At the event, I was moved to see how the entire audience connected to the film.  Many Christians told me it brought to life their love of Israel and the Jewish people.  Many Jews shared they were inspired to witness a Christian event for Israel.
"When my friends ask me if the Jews are the chosen people, I say yes," said Pastor Ray Bentley at the film's post discussion.  He then moved the crowd to tears by saying "I'm so sorry." With a quiet sincerity he apologized for all the ways Christians have hurt the Jewish people in the past.  He conveyed that Christians are "people of the book" and believe God gave the Jewish people Israel and the Jewish people gave Christians their faith.  Bentley said, Christians have an "attitude of gratitude" to the Jewish people and are devoted to supporting Israel.
The Israel Miracle event wasn't the first time Jews and Christians stood with Israel together.  This past January, anti-Israel groups chose to hold their 3rd annual "Gaza Massacre" rally in Balboa Park commemorating the Gaza War on a Saturday hoping the Jews would not respond on our Sabbath.  I called Pastor Greg Stephens, Director of Christians United for Israel (CUFI), and asked if he could help. He proudly said he'd be honored to be our voice when we couldn't speak.  Together we planned the rally, CUFI mobilized their supporters and Pastor Stephens stood before the crowd and the press expressing how Christians stand united with Israel.
In both instances one man financially supported these efforts.  Dr. Bob Shillman is a local Jewish philanthropist devoted to supporting Israel.  He has become one of the leading national donors to Christian efforts to support Israel.  In addition he was the lead underwriter of the Israel Inside film.
What happened this week felt both historic and meaningful.  Bird said "That was one of the most amazing events I have ever been a part of.  So many people had tears in their eyes, expressed how much they were moved and how thankful they were. I felt God was present and Jews, Christians and those with no faith were inspired to look up and love Israel.  Together we are peace makers and bridge builders."
Christian Zionists are our friends. I am grateful Bird came backstage just 11 months ago. We will continue to strive to inspire our community to know and love Israel.
*
Jacobs is the San Diego regional director of StandWithUs
Short URL: http://www.sdjewishworld.com/?p=29748
Posted by
admin
on Jul 13 2012. Filed under
San Diego-Israel connections
. You can follow any responses to this entry through the
RSS 2.0
. You can leave a response or trackback to this entry