By Dan Bloom
CHIAYI CITY, Taiwan — I first met Robert Wechsler online during some email chats back in 2015 when he was trying to find out the name of the artist who painted the portraits on the 1952 Topps baseball cards (it was Maurice Blumenfeld).
He told me then he was working on The Jewish Baseball Card Book.' It is now available in 2017 on Amazon for about US$50, and in a footnote, the handsomely-produced coffee table book was printed in China and then shipped by "a slow boat from China" to the USA.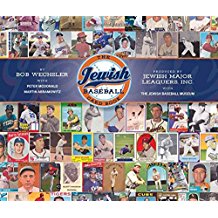 The book is illustrated with 698 cards depicting the 169 Jewish major-league players through 2016, Wechsler recently told me in an update.
"It's an elegant book," says baseball author and former New York Yankees executive Marty Appel. "Talmudic scholars and barstool fantasy players, have fun!"
The book was designed by Peter McDonald, and it includes images of cards of players as well as non-playing personnel such as Jewish umpires, team owners, general managers and broadcasters. Wechsler says that the book would make nice gifts for bar mitzvahs, bas mitzvahs, Hannukah and for a Father's Day or Mother's Day gift.
Wechsler lives in North Carolina and is also the author of Day by Day in Jewish Sports History,' an encyclopedia of sorts published in 2007.
*
Bloom is a freelance writer based in Taiwan.  He may be contacted via [email protected]
Click here for reuse options!


Copyright 2017 San Diego Jewish World