A plea for former major league baseball players

By Doug Gladstone
ALBANY, New York — Like a lot of Jews, I'm of the opinion that you can't have justice for yourself unless other people have justice as well. That's especially true now that we're in the month of Heshvan, which is widely considered to be Jewish Social Action month.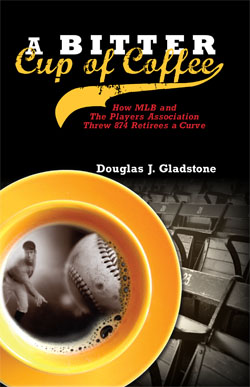 As the author of A Bitter Cup of Coffee, which tells the true story of why nearly 900 retired ballplayers, all of whom played between 1947 and 1979, don't have pensions, I am often asked why I've been advocating on behalf of so many older men who I don't know. Well, first and foremost, we put a great premium on the future generation in this country. As well we should. Our kids are our future.
My daughter is only three. She hasn't learned about tzedakah, and how Jews are obligated to seek social and economic justice. So, I was hoping to start her on something more age appropriate, like delivering food baskets during Purim to the needy.
It's also my opinion that we should all have a little healthy respect for those who came before us. For me, this tradition of helping others attain justice is best expressed in Zechariah 8:16 — the world stands on three things: on truth, on justice and on peace. Execute truth, justice and peace within your gates and, when truth is achieved, justice is done. Also, in Pirkei Avot, that portion of the Talmud which teaches ethical principles, I once read that 'the sword comes into the world because of justice delayed, because of justice perverted and because of those who render wrong decisions.'
Well, even though Major League Baseball (MLB) and the players union legally don't have to do anything for these men, I've always felt their failure to help them was morally wrong.
MLB opened up this Pandora's box when they started giving out health insurance to 39 veterans of the Negro Leagues and their spouses in 1993. Now these were men who technically hadn't even paid union dues, or who didn't have employment contractual relationships with the league. The guys I wrote about obviously did.
Then, in January 1997, 29 veterans of the Negro Leagues were granted charitable payments of $7,500 to $10,000 a year. Then in October 1997, all the guys who played prior to the players pension fund being established in 1947 were awarded quarterly $2,500 payments too.
Seven years later, charitable payments of $40,000 for four years, or $350 a month for life, were conferred on 89 other Negro League veterans. And you know what? Congratulations to MLB for doing that.
But by remedying the past discrimination that Negro League veterans were subjected to, as well as those Caucasians who played prior to the pension fund's existence, I believe it came at the expense of the pre-1980 players. See. for me, this story has always been about equity, about fairness. You just cannot give benefits to groups who, strictly speaking, didn't have a contractual employment history with the league and then turn around and dismiss those guys who did have legitimate working relationships with this employer.
So this past April 21st, MLB and the union announced with a lot of fanfare that they were giving these 900 men payments of up to $10,000 a year for the next two years based on their service credit, as compensation for their contributions to the national pastime. And, while I think that's a step in the right direction, it's still less than satisfactory.
First, the men will only receive one other payment, scheduled to be disbursed in 2012. I've heard rumors that neither the league nor the union will be extending this program in the new collective bargaining agreement after the current one expires in December, so that's something to be concerned about.
Then there's the matter of survivor benefits. If one of these guys passes on tomorrow, his widow or children or loved ones won't get a plug nickel. So designated beneficiaries get bupkis.
Also, none of these guys are being afforded health insurance, and many of 'em have a lot of maladies and ailments. Bill Burbach, the former Yankee pitcher — he's got chronic obstructive pulmonary disease (COPD). He can't work, is two years younger than his wife, Wanda, and she's got to continue working at the age of 67 because her spouse doesn't have health insurance. This is not the way our elderly should be spending their years on golden pond.
Both the league and the union should be embarrassed by their treatment of these men. Baseball is a $7.9 billion industry, it's a big business, and these men are being steamrolled over.
If you agree with me, please contact the leaders of the Major League Baseball Players Alumni Association. Geoff C. Hixson, the chief operating officer of the group, can be contacted at geoff@mlbpaa.com. His phone number is 719-477-1670, x110.
Dan Foster is the executive director of the association, and his email is dan@mlbpaa.com; alternatively, his direct number is 719-477-1870, x112.
If you'd rather write, here's the alumni association's address:
Major League Baseball Players Alumni Association
1631 Mesa Avenue
Copper Building, Suite D
Colorado Springs, CO 80906
postoffice@mlbpaa.com
*
Gladstone's book, A Bitter Cup of Coffee; How MLB & The Players Association Threw 874 Retirees A Curve, was published by Word Association Publishers. To order it, please contact the publisher directly at 1-800-827-7903)
.
Short URL: http://www.sdjewishworld.com/?p=22376
Posted by
admin
on Nov 4 2011. Filed under
Miscellaneous
. You can follow any responses to this entry through the
RSS 2.0
. You can leave a response or trackback to this entry